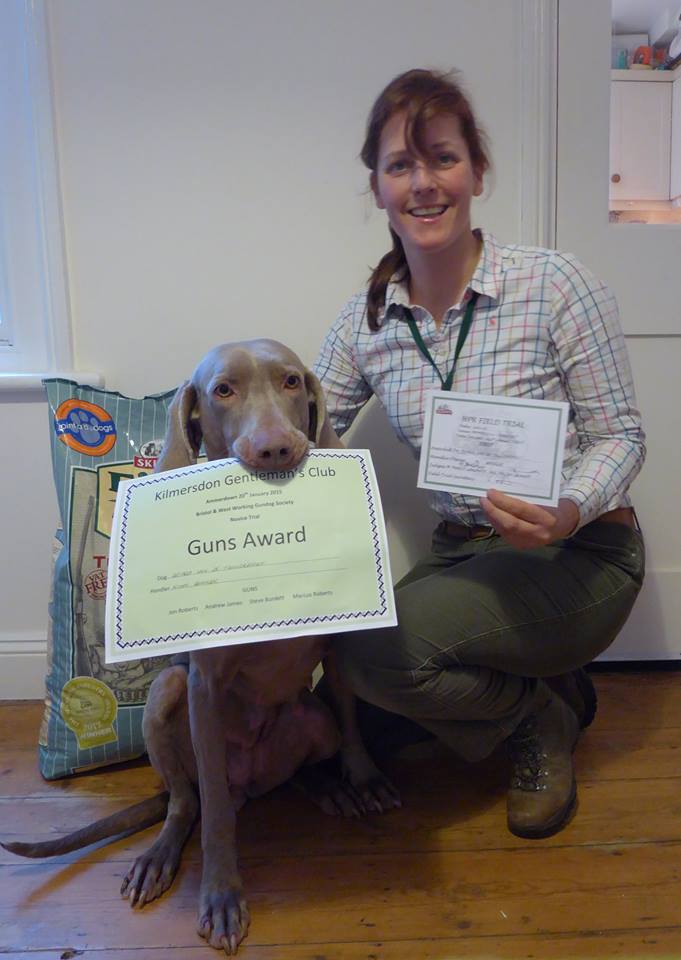 Weimaraners in Field Trials: Season Summary 2014/15
The prospects for Weimaraners for the 2014/15 trialling season augured well following the achievements of the breed in the previous season which saw 8 handlers win 17 awards with 9 dogs. The season just ended was on the face of it not quite as spectacular as the mini-resurgence which preceded it, but when delving into the detail, there is still a great deal to be satisfied about.
By the end of November 2014, with only two further months of trialling available, the breed had notched up just two awards with two dogs. On 11/11/2014 Phil Ross's Enryb House Party At Clannliath (d) "Chester" picked up a COM in the NoSGA Novice trial at Castle Grant. Two weeks later, Nigel Wroe's Bastillian Lady Kasshilde (b) won a 2nd place in a N&SHPRFTC Novice trial at the Glassenbury Estate, Kent.
Some of the reasons for this meagre mid-season tally had more to do with injuries to leading dogs, or bitches whelping litters, than indifferent performances. Although some of the previous season award winners did not run at all, some of those which did missed out this time round.
December brought a change in fortune and three further awards were secured for the breed. Chester picked up a 4th and then a 3rd place in two GSPC Novice trials, and then Suzi Burton's Trubon Flysse Trevive (b) won a 4th place at a WCGB All-Aged trial at Glassenbury.
Then, with less than two weeks remaining of the shooting season something remarkable took place at a BWWGS Novice trial at Ammerdown Park. It was a rare but not unheard of outcome where all the dogs to water were Weimaraners. When the water tests were completed, Kimm Bakker's Dutch bred bitch, Ostara Van De Tuindershof, "Tara", in her second ever field trial had secured a 1st place (and Guns Award), followed by Nigel Wroe's Bastillian Lady Kasshilde at 4th (her second award of the season), and Christine Carpenter's Sh Ch Aschfahl Isen (b) with a COM. Isen now drops the Sh to become a Full Champion.
Less than a week later Tara secured a 4th place in a GSPA All-Aged trial at Over Worton.
Then just 4 days from the end of the season, and in the second to last field trial, Suzi Burton's Trubon Delta Truffe (b) came 2nd in a GSPC Open trial at Stow Bardolph. This placing qualified Delta to be the first Weimaraner able to represent the breed in the HPR Championship since Tsairgid Talked About (d) in 1990. This will take place in November 2015.
The 2014/15 awards can be summarized as follows:
| | | | | | | |
| --- | --- | --- | --- | --- | --- | --- |
| Stake | 1st | 2nd | 3rd | 4th | CoMs | Total |
| Novice | 1 | 1 | 1 | 2 | 2 | 7 |
| All-Aged | – | – | – | 2 | – | 2 |
| Open | – | 1 | – | – | – | 1 |
In 2014/15 5 Handlers running 6 dogs secured 10 awards. In total 15 handlers ran 17 dogs, which had 66 runs, that is drawn to participate in the trial.
In 2013/14 10 of the awards were COMs and 7 were places. In 2014/15 8 of the 10 awards were for places and this is the best performance for places since the 11 places secured in 1995/96.
Weimaraner All-Time Field Awards Tables:
Phil Ross, Suzi Burton, and Christine Carpenter were already featured in the top 20 of the WATFA Table for Handlers as the season got under way. Nigel Wroe's 33 points earned in the season with Bastillian Lady Kasshilde (b) were sufficient to elevate him to 14th in the top 20 handlers table, from 22nd position previously.
Suzi's 2 awards in the 2014/15 season earned her an additional 52 handler points, to bring her All-Time tally to 1,084 points, and strengthens her position at first place in the table.
Phil's season tally was 38 points to bring his All-Time score to 264, all with the same dog, Enryb House Party At Clannliath (d). Phil improved on his handler's placing by moving from 7th to 5th place, leapfrogging Field Trial Champion handler Dave Pilkington, and also Costas Wilkinson. Phil's dog, Chester, moved from 5th to 4th place in the WATFA Table for Dogs.
Christine's Ch Aschfahl Isen's (b) 10 points allowed her to displace Trevor Horsefield (of Waldemar Titus (d) fame), by moving into 8th place in the handlers table.
Suzi's Trubon Delta Truffe's (b) 2nd place in her Open trial earned 32 points to lift her to 11th, with 165 points, a point ahead of kennel mate, Trubon Flysse Trevive (b) at 12th in the WATFA Table for Dogs. Delta is Suzi's second dog to be placed in Open, joining Trubon Chyna Treasa (b) with that distinction.
The was no other upward movement in the WATFA Top 20 tables for handler or dog. However, Nigel Wroe's entry into the top 20 handlers table caused M Berry (Lujarger The Limit (b), Heros Neptune (d)) to drop out of the handlers table.
The top performing dog in terms of award points was Kimm Bakker's Ostara Van De Tuindershof (b) "Tara". Kimm enters the handlers table at 31st place with 45 points. Tara tops Tier 3 of the WATFA Table for Dogs from a previous status of "unrecorded".
Nigel Wroe
(05/02/2015)
Click for pdf version of Weimaraners in Field Trials 2014/15, with tables.