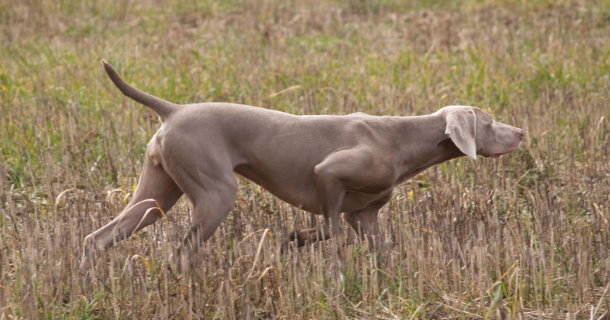 Weimaraners in Field Trials: Season 2015/16:
Introduction:
The Hunting Weimaraner maintains a database of UK Field Trial Awards for Weimaraners and their handlers, originally compiled in 2012 from a variety of historical sources, and updated each field trial season since then from on-going field trial results.
Season and all-time rankings are then calculated for dogs and handlers based on a weighted points allocation determined by the place in the awards and the stake at which the awards were earned. These tables are known as the WATFA tables, (Weimaraner All-Time Field Award tables).
The WATFA tables, and the database from which they are derived make it possible to compare the relative achievements of Weimaraners and their handlers in field trials, over the years, and each season. Other field awards, such as those earned at Gundog Working Tests and Pointing Tests do not feature in the Hunting Weimaraner database, although the various Weimaraner breed clubs will make annual awards based on results in all three field disciplines.
HPR Field trials can be held on game in the UK from the 12th August to 1st February following, inclusive and is aligned with the shooting season. The collection of data concerning Weimaraners running in field trials in any season relies on the goodwill of owner/handlers and other HPR enthusiasts sending notice of the participation of Weimaraners, and hopefully of awards, to the writer. There are other, ad hoc sources, but sadly no publicly available central repository of field trial runners and handlers. So errors and omissions are possible and the writer would be pleased to receive notices of such to allow any corrections to be made.
Field Trial Season 2015/16:*
The 2015/16 field trial season came to an end on 1st February 2016 and it is now possible to take stock and reflect on the season's results for the Weimaraner.
Compared with recent years the tally of awards (including CoMs) to Weimaraners was very low. Six awards were shared among just two dogs, involving two handlers. Whereas, in the previous season (2014/15) 5 Handlers running 6 dogs secured 10 awards.
By the end of the season 13 Weimaraners had competed under 9 handlers and had had 56 runs. In the preceding season, 15 handlers ran 17 dogs, which had 66 runs.
Of the 6 awards in the season just ended 3 were places and 3 were CoMs. The "when and where" these were awarded are discussed below.
Nigel Wroe's bitch Bastillian Lady Kasshilde (born 02/10/2010) ("Kassie") secured the season's first award to Weimaraners at the ISCGB All Aged field trial at Boreham, Essex on 01/10/2015, the opening day of the pheasant shooting season, earning a 4th place under judges Chris Snelling and Steve Robson. This was her first award at a higher level stake.
This placing was matched three weeks later by Suzi Burton's bitch Trubon Flysse Trevive (born 11/04/2011) under judges Graham Nixon and Larry Wilks at the WCGB All Aged field trial at Wispington, Lincolnshire on 21/10/2015.
So honours were then even between these two bitches and handlers but by the end of the month Kassie had managed a 4th place in a Novice field trial held by the N&SHPRFTC at Titsey, Kent on 29/10/2015. Judges Costas Wilkinson and Mark Jones officiating on the day.
Kassie's ascendancy in the season points tally was short lived as Flysse picked up a CoM in another WCGB trial, this time the Open held at Langholm, Dumfriesshire on 07/11/2015 under judges Steve Kimberley and Stevie Allerton. This was Flysse's first award in an Open stake. As far as WATFA points were concerned Flysse was now on 36 points and Kassie on 33.
In focussing on the exploits of these two bitches, it would not be true to say there were not other Weimaraners in the running. By 07/11/2015 10 Weimaraners had had 26 runs in field trials across the country, under 7 handlers, but only Kassie and Flysse had survived in their trials to gain awards.
As stated earlier, by the end of the season those statistics were 13 Weimaraners under 9 handlers having had 56 runs, the further two awards went to Kassie and Flysse.
The HPR Championship took Suzi to the Swinton Estate, Yorkshire in mid-November with Trubon Delta Truffe (b) (born 05/05/2008) but recent back surgery took a toll on the bitch and Delta was withdrawn at the end of the first day.
The vagaries of field trial dates, draws, and a season were to keep Kassie from field trials for several weeks until the LMC Novice field trial at Evesham on 14/12/2015. Judges Nigel Cox and Larry Wilks awarded Kassie a CoM and this allowed her to leapfrog ahead of Flysse for the final time.
The vagaries of trial dates and the open trial draws would also keep Flysse from competition over the course of the season.
Kassie's lead was short lived as Flysse earned a CoM at the GWPC Open FT at Headbolt on 16/12/2015 under judges Maureen Nixon and Geoff Hargreaves. Flysse maintained her points lead to the end of the season, finishing on 52 points with Kassie on 43.
It might have been different by the end of the last day of the shooting season as Flysse was withdrawn (being in season) from the HVS All-Aged FT at Over Worton on 01/02/2016, and as luck would have it Kassie was called up from the reserves to take her place. Kassie was not able to capitalise on her getting a run by winning an award however.
So Trubon Flysse Trevive was confirmed by the records as the "FT Hunting Weimaraner", and her handler, Suzi Burton as "FT Hunting Weimaraner Handler" of the 2015/16 season.
The 2015/16 awards can be summarized as follows:
| | | | | | | |
| --- | --- | --- | --- | --- | --- | --- |
| Stake | 1st | 2nd | 3rd | 4th | CoMs | Total |
| Novice | – | – | – | 1 | 1 | 2 |
| All-Aged | – | – | – | 2 | – | 2 |
| Open | – | – | – | – | 2 | 2 |
In 2014/15 5 Handlers running 6 dogs secured 10 awards.
Weimaraner All-Time Field Awards Tables:
The 52 points earned over the 2015/16 season by Trubon Flysse Trevive (b) elevated her from 12th position to 6th in the WATFA table for dogs, leapfrogging kennel mate Trubon Delta Truffe (b) previously positioned at 11th.
With 43 points earned over the season, Bastillian Lady Kasshilde (b) was propelled from 11th place in the 2nd tier WATFA table for dogs (31st overall) to 17th in the 1st tier. With this new entry into the top twenty, Lotti Go-Lightly (b) (born: 10/05/1962) dropped out of the 1st tier of FT Hunting Weimaraners (see ≠ below)
The 52 points earned by Trubon Flysse Trevive strengthened handler Suzi Burton's position at 1st place in the WATFA table for handlers. Bastillian Lady Kasshilde's 43 points elevated handler Nigel Wroe to 11th on the handlers table, from 14th place previously.
≠ Lotti Go-Lightly (b) (born 10/05/1962):
Owned and handled by the late Lt. Col. HD Tucker, Lotti Go-Lightly was the 5th Weimaraner in the country to win a recognised field trial award, and that award was a 1st place in the GSPC Novice field trial at Wynyard Hall on 11/10/1967. With this award, Lotti Go-Lightly was the first Weimaraner to win an award at a trial where game was shot and retrieved, that is to say, a recognisable HPR field trial award.
The late Lt. Col. HD Tucker features in the WATFA table for handlers at 14th place.
* Disclaimer: The results and other statistics cited in this article are based on information received in good faith and is published subject to E&OE.
Nigel Wroe
17/02/2016
Click for pdf version of Weimaraners in Field Trials 2015/16, with tables.