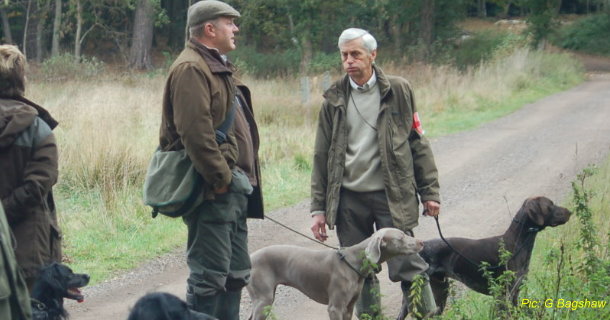 Personal Commentary:
Other than the WCGB ToW day recently at Tenterden, this was Misty's first competitive working test among other breeds, guests of the Brittany Club of GB.
We had a great morning (and afternoon which cost me my visit to Wembley – cry!). We thought it would be all over by 13:00 but it was a fairly casual start and then there were inbuilt delays due to wind changes, handlers with entries in several groups, a waterlogged judge (in Puppy) and lunchbreak. We will know better next time!!
I wasn't too sure of the order and content of the Puppy WT but it turned out to be (in order):
Hunt (40 pts) – into wind on well covered ground
Seen Retrieve (20 pts)
Memory Retrieve (20 pts)
Water Retrieve (20pts)
We (Misty and I) were not the first to start the hunt and we watched with awe at a GSP who was marvellous ,Marauder Magpie (Damurakis) – GSP Dog, but he had to take the test again due to a wind change and faltered a bit second time around.
Misty sat steady on her turn but when I sent her out she made a beeline at pace straight to the raised embankment and big sky straight ahead (about 150 yds). I thought we had been disqualified but we were not. (I'd have got to Wembley otherwise!). Having recalled her we set out and covered the ground in a fashion. As THE WEIM BITCH in this class we felt we had to complete the other tests and were much talked about for that impersonation of a greyhound!
I felt we would make up for lost points on the retrieves which we did but I was totally amazed at the scores we got. The water retrieve was a bit nerve wracking because it was a very steep and deep entry whereas where I train Misty she has to wade out some distance to get swimming. She did feel for the bottom momentarily but straightaway decided to swim out for the dummy.
There was a moment after the tests when we thought Misty had been snakebitten but she lives to tell the talel.
By 16:00 the results were being announced and to our astonishment we were placed 5th on 84 points, 2 behind 4th, 3 behind 3rd, 7 behind 2nd and 10 behind 1st. I do believe we were the only placed weim on the day in a Classified Stake so we were very proud to take our bow. If there were any penalty points deducted for the mad dash in the hunt then it cost us a ranking place or two but we were very satisfied and learned an awful lot.
When I examined the points breakdown, I found we had scored 20/20 in each of the retrieves. Second place got 2 x 20/20's otherwise the other places achieved just the one 20/20 in land retrieves.
Misty was the only one in puppy to get a 20/20 in water and I was so pleased with that.
Our Hunt scored 24/40.
My hometown team beat Leeds to win promotion, my family made it to Wembley without me, so it was certainly a day to remember.
Nigel Wroe
27/05/2008
Results:
The Brittany Club – GWT
Venue: Hamptworth Estate, Wilts
Date: 25th May 2008
Puppy: Entries 10 Judge: Mrs H Evans
1st: 94 Pitwit Gamefinder (Terry) – GSP Dog
2nd: 91 Marauder Magpie (Damurakis) – GSP Dog
3rd: 87 Pitwit Jack the Gamekeeper (Eliott) – GSP Dog
4th: 86 Witham Friary Bouncer (Macdonald) GSP Dog
5th: 84 Blenweim Sweet Lady of Bastillian (Wroe & Davies) – Weim Bitch
No's after placings are scores from 100 pts.
Open: Entries 12 Judge: Mrs F Wensley
1st: Fallowmill Diamond Dazzler – GSP Dog
2nd: Kimmax Kollectible – GWP Bitch
3rd: Swifthouse Crumble – GSP Bitch
4th: Swifthouse Crusader – GSP Dog
5th: Witham Friary Alma – GSP Bitch
Novice: Entries 18 Judges: W. Pearson R. Davies
1st: Witham Friary Billie – GSP Dog
2nd: Addaci Celtic Warrior JW Sh Cm – Vizsla Dog
3rd: Tjader Seahorse – Vizsla Dog
4th: Barleyarch Tassimo JW – GSP Bitch
5th: Rochus Vincent – Britanny Dog
Special Beginners: Entries: 5 Judges: Mr N Gregory
1st: Hawking Jess – Brittany Bitch
2nd: Edingorse Limited Edition (Carrington) – Weim Bitch
3rd: Fiscardo Pennywhistle – Vizsla Dog
4th: Holly (late entry?)
5th: Jayrinbrits Betsan with Rochus – Brittany Bitch
Apologies for 4th placing – announced but not listed in catalogue…