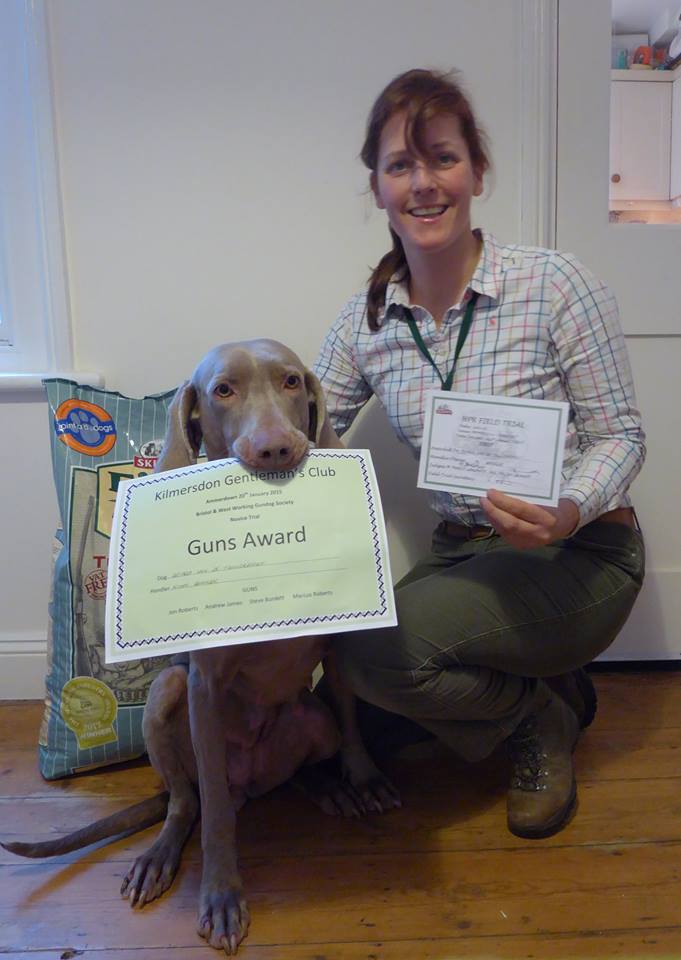 Weimaraner Field Trial Firsts:
HPR Field Trials:
Along with the German Short Haired Pointer, the Weimaraner has a long history in trialling in the UK. When the first Weimaraners were imported into the United Kingdom in 1952, there was no such thing as Field Trials for dogs which Hunt, Point and Retrieve. Weimaraners ran in Pointer & Setter trials in the 1950s. It wasn't until the GSPC (in the 1960s) and the WCGB (1970s) began putting on field trials for HPRs, and in the shooting season, was the retrieving of shot game really tested at trials.
Winning a first place in a Novice HPR Field Trial is generally accepted as qualifying a dog for Open Field Trials. However, as far as Open Trials are concerned, the clue is in the name – the trial is open to all dogs of sufficient standard, and in the assessment of whether a dog has achieved that standard, the fact that it has been placed first at a Novice trial (or first or second at an All-Aged trial) will simply gain the dog a preference in the draw for the Open trial, should there be in excess of 12 entries.
There is no bar, other than the draw preference system, to any dog being entered into an Open Trial. What is certain is that in the modern era, a dog which has been placed first in a Novice field trial will not be permitted to enter further Novice trials.
This was not always the case, as in the early decades of HPR field trialling dogs were only barred from further Novice field trials if they had won two Novice firsts. This position obtained until the early 1980s. Dogs were also barred if they had won one first and two other places in Novice, or a first in an Open Trial.
A preference system for draws in All-Aged stakes is operated by many HPR breed societies, as the Kennel Club regulations allow for eligibility for entry in All-Aged to be restricted by any requirement imposed by the promoting society, other than age.
In recent years, the Weimaraner Association (WA) has run a "Weimaraners Only" All-Aged field trial, which would, it follows, have allowed any first or second placed dog to be given preference in a draw for an Open Trial, if it had not previously earned that entitlement in competition with other HPR breeds.
It was not unusual for "Weimaraners Only" Novice trials to be run by the Weimaraner Club of Great Britain (WCGB) in the early days of HPR field trialling. However, there were not many other HPR clubs running trials in existence in those days, nor many dogs of other HPR breeds trialling in the country except for mainly GSPs, and Hungarian Vizlas.
Novice Trial Winners:
A total of 26 Weimaraners have been placed first in Novice field trials, handled by 20 handlers. Three dogs have picked up a second 1st place when entry into further Novice trials was still permitted, to make 29 Novice 1st places in total.
The very latest win at a Novice trial came in the 2014/15 season just ended, with handler Kimm Bakker handling her Dutch bred Ostara Van De Tuindershof (b) (born 23/09/2008) to that coveted 1st place under judges M Wakeham and T Bennett at Ammerdown Park, Somerset, hosted by the BWWGS.
Twelve first places have been at awarded at WCGB Novice trials, with two of those first places being won in "Weimaraner only" trials in the early 1980s, the remainder have been in competition with other HPRs. The latest win at a WCGB Novice trial was at the Glassenbury Estate, Kent on 29/12/2012 with Suzi Burton's Trubon Delta Truffe (b) (born 05/05/2008) under judges Mrs R Dockwray-Howard and L Anderson.
A further two first places were awarded at WA trials, one at Catton Park, Derbyshire on 06/11/1995, to Christine Carpenter's Aschfahl Liberty Belle (b) (born 04/07/1992) under judges Mrs M Davison and T Rigby. The other went to Dave Pilkington's Quadet Caterin (b) (born 04/08/1999) under judges C Wilkinson and R Day at Skirbeck Farm, Benniworth, Lincolnshire on 29/01/2003.
Double Firsts:
Lt. Col. HD Tucker's Lotti Go-Lightly (b) (born 10/05/1962) was the first Weimaraner to achieve a first place in Novice, in the GSPC trial at Wynyard Hall, Stockton-On-Tees on 11/10/1967 judged by GC Sterne and Mrs M Sanderson.
Lotti Go-Lightly was also the first Weimaraner to win a second 1st place, just under five years later, this was in the WCGB trial at Flixton, Suffolk, on 07/10/1972 under judge Mrs M Sanderson once again, with co-judge G Sherring.
Costas Wilkinson's Heronshaw Silver (b) (born 18/02/1977) won two first places in Novice, one at a WCGB (Weimaraners Only) trial at Tisted, Hampshire on 18/01/1980 under judges D Layton and T Horsefield, and the other the following season on 11/10/1980 at a GSPC trial at Burton-le-Coggles, Lincolnshire, under judges Mrs M Davison and E Wheeler.
The third and last double Novice winner was Mrs J Turner's Ch Czolkins Platinum Cirrus (d) (born 26/05/1979); first at a WCGB (Weimaraners Only) trial on 13/01/1981 at Tisted, Hampshire under G Kew and J Field; and then on 09/10/1983 at a LMC Novice trial at Hall Barn, Beaconsfield under R Kuban and P Howard.
Double Handling:
Trevor Horsefield was the first handler to win Novice trials with two different dogs. The first win was with Waldemar Titus (d) (born 10/09/1970) at a GSP trial on 27/11/1976 at Eyke, Hollesley under judges Mrs L Petrie-Hay and Maj. G. Wilkinson MBE.
Trevor repeated the feat with Titus's daughter, Hillbrow Quest (b) (born 27/11/1975) the following year in the WCGB trial at Dullingham on (21/10/1977) again under judge Mrs L Petrie-Hay, with CL Church co-judging.
Christine Carpenter picked up her second 1st place with Liberty Belle's daughter, Aschfahl Chrystabelle (b) (born 04/05/1998) at a BWWGS Novice trial at Ammerdown, Somerset on 09/01/2004 under judges F Alcock and J Burns.
In between her two Novice first places, Christine handled Aschfahl Liberty Belle to an All-Aged win at a GSPC trial at Conholt Park on 19/10/1996 under judges Mrs M Nixon & Mrs V Ashton.
A Third In The Hand:
To date two handlers have managed to win Novice trials with three different dogs; Liza Brown and Suzi Burton.
Liza's first win was with Emmaclan Escort (d) (born 03/02/1985) under judges G Nixon and P Howard, at a WCGB trial on 21/01/1987. On 12/12/1992 at a HGS trial, Liza's Belvoirvale Bracken (b) (born 11/08/1989) was awarded 1st place by judges Mrs M Nixon and C Wilkinson. Eleven years later, on 18/10/2003, at a GSPA trial judge Mrs M Nixon, and her co-judge A Russell awarded a Novice win to Brakabreeze Bravehawk (d) (born 17/05/1999).
Emmaclan Escort was to go on and win a GSPC All-Aged trial on 02/12/1989 under judges Mrs M Nixon and J Breckon.
It is worth mentioning that on 02/12/2003, the sire of Brakabreeze Bravehawk, Chris Spree's Brakabreeze Goshawk (d) (born 17/05/1999) won a WCGB Novice trial at Stourhead Estate, Wiltshire, under judges CL Church and Mrs LA Brown.
Three of Suzi Burton's dogs have won Novice trials. The first win came on 26/01/2005 at a NSHPRFTC trial at Great Priory Farm, Braintree, Essex with Trubon Arade Tribute ("Fenny") (b) (born 01/05/1999) under judges F Alcock and S Eyeington. Fenny's sire was Chris Spree's Brakabreeze Goshawk, which was also the sire to FT Ch Quadet Caterin.
The next Novice win was at a WCGB Novice trial on 29/12/2012 at the Glassenbury Estate, Kent with Trubon Delta Truffe.
The third of her Trubon dogs to win Novice was Trubon Flysse Trevive (b) (born 11/04/2011) at a Dukeries (Notts) trial at Blenheim, Oxfordshire on 14/12/2013 under judges A Russell and P Smith.
Fenny's daughter, Trubon Chyna Treasa (b) (born 12/06/2006) won out of Novice by winning a WCGB All-Aged field trial at Glassenbury Estate, Goudhurst, Kent on 14/01/2011 under judges M Firmin and Mrs V O'Keeffe.
All-Aged Field Trials:
It has been mentioned that promoting societies may hold field trials with a variety of entry restrictions (other than by age of dog). In the modern era, All-Aged trials are generally seen by those involved in trialling to be an intermediate level between Novice and Open.
In an All-Aged trial it is usual to find dogs which have been placed in Novice trials (a common requirement applying as a preference in the draw) competing against dogs which have won out of Novice and which may have competed, and even been placed, in Open trials. The draw preference system will often also seek to prefer members with the particular breed of the promoting society.
The Kennel Club regulations pertaining to field trials (the "J-Regs") do not specify a harsher judging regime to apply to the differing field trial stakes, although handlers generally expect that judges are looking for a higher standard of work from both dog and handler at All-Aged Trials. For Open Stakes which carry a qualification for the title of Field Trial Champion, the regulations explicitly state that a higher standard of work is expected.
All-Aged Firsts:
There have been seven All-Aged first places awarded to Weimaraners. The first Weimaraner to win an All-Aged trial was Di Arrowsmith's Wobrooke of Fleetapple ("Brooke") (d) (born: 17/11/1979) at a LMC trial at Hall Barn, Beaconsfield, Bucks on 14/01/1985 under judges Sir M Leighton Bt and Mrs M Nixon. Brooke won first again, also at a LMC trial a year or so later on 20/01/1986 at Clapham, Nr Settle, Yorkshire, under judges G Nixon and Mrs M Nixon.
No other dog or handler has won more than one first at All-Aged trials.
Liza Brown's Emmaclan Escort, Christine Carpenter's Aschfahl Liberty Belle and Suzi Burton's Trubon Chyna Treasa All-Aged firsts have been mentioned earlier.
Ch Tasairgid Talked About (d) (born: 13/05/1984) owned by Mr & Mrs S Chant, and handled by Steve Chant, won out of Novice by virtue of an All-Aged first awarded by judges EG Hardman and C Wilkinson at a GSPC trial on 06/01/1990.
The same distinction applies to Suzi Burton's Trubon Chyna Treasa and also to PH Wassall's Roxberg Prince Kharis of Eigerwand (d) (born: 06/01/1987) which won its first place at a GSPA trial on the last day of the shooting season on 01/2/1991 under judges DM Layton and I Elliot.
Open Firsts:
Given that there have only been two Field Trial Champion Weimaraners, it is not surprising that it is a very exclusive company of Weimaraners which have the distinction of being placed first at Open field trials. Two first places confer the title of "Field Trial Champion" to a dog.
Both Field Trial Champions won out of Novice by being placed first.
Di Arrowsmith's FT Champion Wobrooke of Fleetapple (d) won three first places in Open trials. The first was at a Lothian and Borders Gundog Association trial on 22/10/1988 under judges Mrs M Nixon and PG Nixon. The title-conferring second win was at a GSPC trial a month later on 18/11/1988 under judges Mrs I Sanderson and Mrs M Nixon. And as if to amplify its FT Champion status, Brooke won again at a GSPC Open trial on 06/12/1989 under judges Lord Joicey DSO and DM Layton.
Dave Pilkington's FT Champion Quadet Caterin (b) ("Holly") got a "leg up" by winning an Open first on 30/12/2004 at a WCGB trial at Netheravon, Wiltshire under judges PG Nixon and S Chant. The all-important second Open win came two days later on 01/01/2005 at a GSPA trial at Little Dalby, Leicestershire under judges A Russell and Mrs V O'Keeffe.
Intense Competition:
In the early days the main competition for HPR field trial awards came from German Shorthaired Pointers which even then were more numerous in the field. In the modern era both GSPs and Weimaraners now compete with a host of other continental HPR's which were introduced into the United Kingdom much later than these two breeds.
In the 2013/14 trialling season, 77 GSPs ran, compared with just 24 Weimaraners. Indeed, not only were the Weimaraner numbers eclipsed by the GSPs, they were exceeded by the GWPs (30), and HVs (25), while remaining ahead of the other 8 HPR breeds which ran.
The 2013/14 season was notable, however, as it saw a mini-resurgence in the number of Weimaraners and handlers entering field trials, with 20 handlers running 24 dogs, and 8 handlers winning 17 awards with 9 dogs.
Competition for awards is intense at all levels, but especially so in Open trials. Suzi Burton's two Open dogs will be joined by Kimm Bakker's Tara for the start of the 2015/16 season in having preferential status in the draw for places in Open trials.
Nigel Wroe
10/02/2015
Click for pdf version of Weimararaner Firsts with Summary Table.
References:
Guide To The Weimaraner – Gillian Burgoin 1985
HPR Championship – T Horsefield – HPR FTA
Kennel Club Stud Books to 2012 – Kennel Club
Kennel Club "J" Regulations
www.weimaranerpedigrees.com
Thanks to G Carpenter for edit suggestions.